Cat-Friendly Apartments
Village Park Apartments are owned and operated by Gaines Investment Trust and offer cat-friendly apartments in Encinitas, CA.
We also have a team of "experts" to give us advice on things like lawn areas, pet stations, where to place a hydrant, pet treats in the office area, etc. Below are pictures of the Director and Assistant Director.
Pet Policy
We are a Cat Friendly Community! Please call our office today for details on services and fees.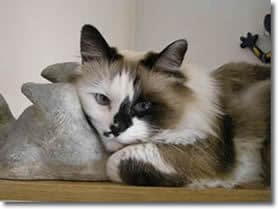 Pets of Village Park Apartments
Pet photos coming soon!
---
Do you have any friends looking for an apartment where pets are welcome?
Don't forget to refer your family, friends, and co-workers to our pet-friendly Encinitas, CA, apartments where cats and people can find a great home. For those looking for a pet-friendly apartment, read our pet policy and contact us today.